Another one of the works of Antoni Gaudi, one of the most eccentric architects of the 20th Century. It was developed and built from 1900 to 1914.
This building is part of Parc Guell, a concept park Gaudi set to work on for a colleague in Barcelona. The park ended up failing to attract the visitors it was intended to and was sold to aristocratic higher powers. It is one of a pair of buildings located at the parks entrance gates.
The rooftops are decorated in mosaic tiling, in a unique and interesting design, repeated throughout the entire park area. It instantly reminded me of the gingerbread house from Hansel & Gretel. Just makes you want to break off a piece and eat it!
This was the very first Gaudi site I visited in Barcelona, which I had waited to get to for many years. The man's vision must have been so different from that of the world we live in today. He really was a master of his craft.
Desaturated, and texture added from www.deviantart.com free use stock.
Featured in Statues & Such
Canon SX100IS
MCN: CAFBC-7223A-CB6A3
MCN: CKWC3-5V5UR-8HCVV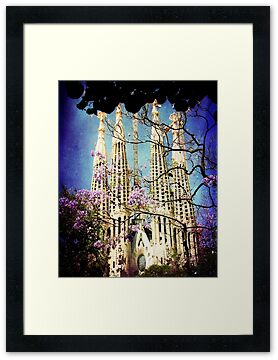 <a href='http://www.myfreecopyright.com/registered_mcn/C...' title='MyFreeCopyright.com Registered & Protected' ><img src='http://storage.myfreecopyright.com/mfc_protecte...' alt='MyFreeCopyright.com Registered & Protected' title='MyFreeCopyright.com Registered & Protected' width='145px' height='38px' border='0'/></a>
<a href='http://www.myfreecopyright.com/registered_mcn/C...' title='MyFreeCopyright.com Registered & Protected' ><img src='http://storage.myfreecopyright.com/mfc_protecte...' alt='MyFreeCopyright.com Registered & Protected' title='MyFreeCopyright.com Registered & Protected' width='145px' height='38px' border='0'/></a>