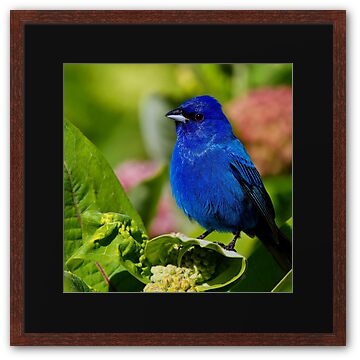 A brilliantly blue bird of old fields and roadsides, the Indigo Bunting is a small songbird with a short, thick bill. The male is a brilliant dark blue. The female is a dull brown.
Though the Indigo Bunting appears blue to the human eye, they are actually a black bird. Their feathers, however, diffract light in such a way that they appear to be blue. In the wild these beautiful creatures live from four to eleven years. They are very small, only about 5 ½ inches in length.
The male Indigo bunting has a beautiful song, which he uses to attract females. The songs are unique to the territory a bunting calls its own. It learns the song from an older male bunting. Buntings return to the same area each year.
The Indigo Bunting migrates south as far as 2,000 miles to South America, Mexico, and the West Indies between August and October. They travel in large flocks at night using the stars for navigation.
Taken at Greene Valley Forest Preserve with a Canon 7D DSLR and 100-400 mm Lens.