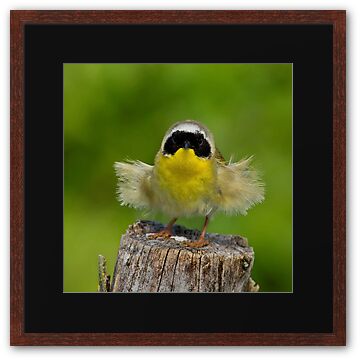 Don't know where the sudden gust of wind came from, but I no sooner got focused on this little guy when that wind whipped him up into what looked like a bad hair day.
A skulking masked warbler of wet thickets, the Common Yellow Throat is far more frequently heard than seen. Its "wich-i-ty, wich-i-ty, wich-i-ty" can be heard from the Yukon to Newfoundland, and from southern Florida to southern Mexico.
The Common Yellow Throated Warbler is one of my favorite birds to watch and to photograph.
This singing yellow throated male was taken at Green Valley Forest Preserve In Naperville, Illinois with a Canon 7D DSLR and 100-400 mm Lens.