Views 1574 at January – 21 – 2013
---
International Centre for the Study of the Preservation and Restoration or Cultural Property
Properties inscribed on the World Heritage List – Italy – Venice and its Lagoon 1987
---
Iso 400
Shutter Speed 1/250 sec
Focal Lenght 12mm
F-Stop f/8
Lens Nikon 12 – 24
Camera Nikon D300
---
Placed 3th in Your Country's Best Group – January Avatar ~ Your Favorite Capture Challenge December – 29 – 2012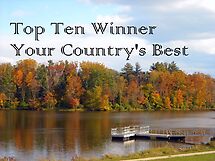 ---
---
---
Squero di San Trovaso
One of the most interesting (and photographed) sights you'll see in Venice is this small squero (boatyard), which first opened in the 17th century. Just north of the Zattere (the wide, sunny walkway that runs alongside the Giudecca Canal in Dorsoduro), the boatyard lies next to the Church of San Trovaso on the narrow Rio San Trovaso (not far from the Accademia Bridge). It is surrounded by Tyrolean-looking wooden structures (a true rarity in this city of stone built on water) that are home to the multigenerational owners and original workshops for traditional Venetian boats. Aware that they have become a tourist site themselves, the gondoliers don't mind if you watch them at work from across the narrow Rio di San Trovaso, but don't try to invite yourself in.
The Art of the Gondola
Putting together one of the sleek black boats is a fascinatingly exact science that is still done in the revered traditional manner at boatyards such as the Squero di San Trovaso . The boats have been painted black since a 16th-century sumptuary law — one of many passed by the local legislators as excess and extravagance spiraled out of control.
Propelled by the strength of a single gondoliere, these boats, unique to Venice, have no modern equipment. They move with no great speed but with unrivaled grace. The right side of the gondola is lower because the gondoliere always stands in the back of the boat on the left. Although the San Trovaso squero, or boatyard, is the city's oldest and one of only three remaining (the other two are immeasurably more difficult to find), its predominant focus is on maintenance and repair. They will occasionally build a new gondola (which takes some 40-45 working days), carefully crafting it from the seven types of wood — mahogany, cherry, fir, walnut, oak, elm, and lime — necessary to give the shallow and asymmetrical boat its various characteristics. After all the pieces are put together, the painting, the ferro (the iron symbol of the city affixed to the bow), and the wood-carving that secures the oar are commissioned out to various local artisans.
Although some 10,000 of these elegant boats floated on the canals of Venice in the 16th century, today there are only 350. But the job of gondoliere remains a coveted profession, passed down from father to son over the centuries.