This summer I fell in love with a tree. A young green evergreen tree at the far corner of the lake. It always looked as if it were freshly sprinkled with rain…a bright yellow green with blackened branches. So light and delicate..it moved with the slightest breeze..waving up and down as if laughing.
Although I have loved many trees in my life, This tree, in the wild woods of Tennessee, took me by surprise. I am almost afraid to know its name.
PS…This tree was in an area that was only accessible by water…and the water was too shallow to get close enough by boat to see the details. This was the best I could do from my shaky little boat: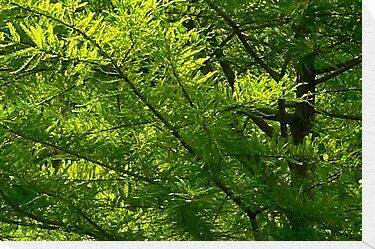 ID'd!!! Thank you!! My little tree is a stranger no more…it is called a white cypress…also known as bald cypress.NOPE!!! .CORRECTION>>>
this is a RED CYPRESS!!!! This discovery made as the needles started to turn orange and then RED in the Autumn….This Cypress is Deciduous!!! Most amazing…and I love it even more….!!!
Kingdom: Plantae
Division: Pinophyta
Class: Pinopsida
Order: Pinales
Family: Cupressaceae
Genus: Taxodium
Species: T. distichum
Lake Pomeroy, Fairfield Glade, Tennessee, USA
Just For You William Blake, who was moved to tears by the beauty of a tree.
Featured: The Woman Photographer
Featured: Your Country's Best Images
Featured: Image Writing
Featured: Art and Photography
Featured: Nature In It's Entirety
Featured: The Power of Photography
Featured: Nature's Paintbrush
Featured: Caption Fun
Featured: The World As We See It
Featured: Tilt-Shift Photography
Featured: Color Me A Rainbow
Featured: Rainbow All One Color
Featured: United States Monthly Themes