To-night the very horses springing by
Toss gold from whitened nostrils. In a dream
The streets that narrow to the westward gleam
Like rows of golden palaces; and high
From all the crowded chimneys tower and die
A thousand aureoles.
Down in the west, the brimming plains beneath the sunset rest,
One burning sea of gold.
Soon, soon shall fly the glorious vision, and the hours shall feel
A mightier master; soon from height to height,
With silence and the sharp unpitying stars,
Stern creeping frosts, and winds that touch like steel,
Out of the depth beyond the eastern bars,
Glittering and still shall come the awful night…Archibald Lampman
The rooftops behind the trees at sunset…a bright reflection at the end of the day, but creeping frosts tell a different story after night falls…someone, maybe the farmer left something on the fence, which with the ice cold temperature, has taken on a sculptural quality..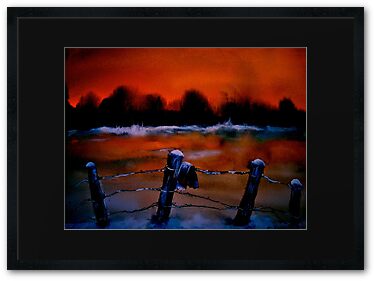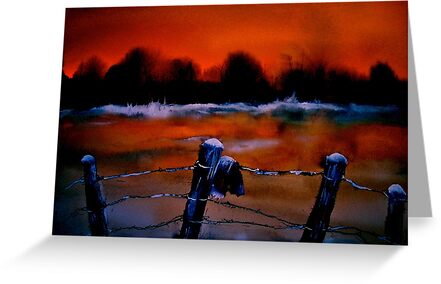 Watercolour on Arches Not Paper..