At Cold Mountain, clouds enfold the sharp cliffs.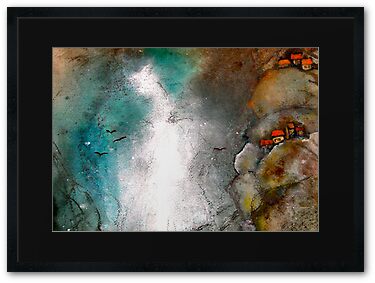 Below, the river eddies around sharp stones.
From here I hear the ancient fisherman
Sing to his single oar, fashioning his wake.
I do not choose to listen, but the mountain
Pines at my secluded thought, nonetheless.
The sparrow, unperturbed, brings twine
From the old man's net, and busies himself on my wall..HanShan.
Hanshan was a poet of the Tang dynasty…in his later years, dissatisfied with life, he wandered a remote place called Cold Mountain, in the Tien Tai range in southern China..
I have painted the Cold Mountain in many different ways, interpreting the poetry of Hanshan from my imagination..today 's evocation is Sunset on the Cold Mountain…
I always paint first then read the poems afterwards, discovering to my surprise that Hanshan had already interpreted my painting….
Ink on Arches Not Paper



More Chinese Brush Paintings can be viewed HERE