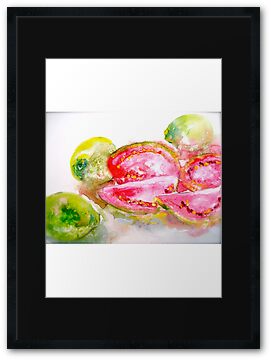 The guava seller had been coming to the market for so long that no one remembered when she was not sitting hunched in the same corner everyday…she was there when the market opened and was still there when it closed..
She always had the same heap of guavas…no more no less…she would put them out on the little wooden table, fingers gnarled with rheumatism, counting them under her breath…there were always one or two she would cut, letting the juices run till the wood turned dark and sticky and the pink centres glowed in the sun…the fruit were round and juicy, plump with ripeness..
She spoke to no one and any one approaching her with the idea of buying, taken aback by the malevolent glare from her hooded eyes, hurried with puzzled faces to shop somewhere else…
One day, we were surprised to see the corner empty and word went round that she was thrown out for not having a license…oh well she had no friends there anyway, and never sold anything, so we went back to minding our own business..
As time went by a feeling of unease permeated the market…we all kept looking over to that corner…it was a dark corner…no one wanted it, but yet …
This state of things went on for a week…on the Monday I was a bit late…turning to the corner, I was startled to see the guava seller back in her place…
What happened? I whispered…
"We couldn't stand it anymore…we paid the fine"…
I looked back at the corner where she sat hunched over the guavas…was there a slight change in her demeanor?…did I see some relaxation in that grim visage?….was there a tiny gleam of light from those hooded eyes? ….I sighed as I realized it was just wishful thinking on my part…
But the market felt right again…we smiled at each other with relief as once more we turned back to our stalls…J.Zroback…Short Fiction..
For another thriller from the George St Market, click HERE
Watercolour on Arches Not Paper

After the Deluge