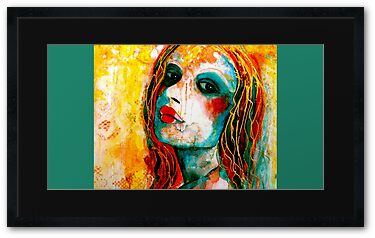 My tears are like the quiet drift
Of petals from some magic rose;
And all my grief flows from the rift
Of unremembered skies and snows.
I think, that if I touched the earth,
It would crumble;
It is so sad and beautiful,
So tremulously like a dream. Dylan Thomas
I wanted to create a feeling of the Commedia Dell Arte…
"Zoe" is named after the main character in Quidam, a young woman who dreams up the whimsical world of Quidam, as a means of escaping the monotony of her life….the poem is about a clown in the moonlight…..together they exemplify the subject matter of the painting
Mixed Media on Fabriano HP Paper…Watercolour, Copper gutta percha, Charcoal and Gouache…
Featured in:
Shameless Self Promotion.
Image Writing.
Everyday Women
Self Expression..
View the recent additions to the Portrait Collection by clicking HERE
Samples from the collection are below..