The old river in its broad reach rested unruffled at the decline of day, after ages of good service done to the race that peopled its banks, spread out in the tranquil dignity of a waterway leading to the uttermost ends of the earth.
In and out of rivers, streams of death in life, whose banks were rotting into mud, whose waters, thickened with slime, invaded the contorted mangroves, that seemed to writhe at us in the extremity of an impotent despair. Nowhere did we stop long enough to get a particularised impression, but the general sense of vague and oppressive wonder grew upon me. It was like a weary pilgrimage amongst hints for nightmares
- Joseph Conrad, Heart of Darkness, Part 1
And this also,' said Marlow suddenly, 'has been one of the dark places of the earth.
The Heart of Darkness centers around Marlow, an introspective sailor, and his journey up the Congo River to meet Kurtz, reputed to be an idealistic man of great abilities.
Marlow takes a job as a riverboat captain with the Company, a Belgian concern organized to trade in the Congo. As he travels to Africa and then up the Congo, Marlow encounters widespread inefficiency and brutality in the Company's stations. The native inhabitants of the region have been forced into the Company's service, and they suffer terribly from overwork and ill treatment at the hands of the Company's agents. The cruelty and squalor of imperial enterprise contrasts sharply with the impassive and majestic jungle that surrounds the white man's settlements, making them appear to be tiny islands amidst a vast darkness…S Notes
Conrad's works always give me a very surreal feeling as I read them and none more so than "Heart of Darkness"…all through it I get the feeling of a world inhabited by strange creatures and other worldly humans…
I wanted to interpret that feeling by painting a land that would evoke that sense of the surreal…
This is the second in the new series, based on his works…the first is below
Watercolour on Fluid Paper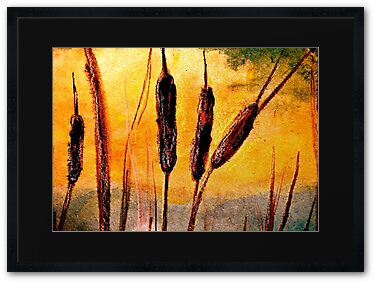 The Heart of Darkness