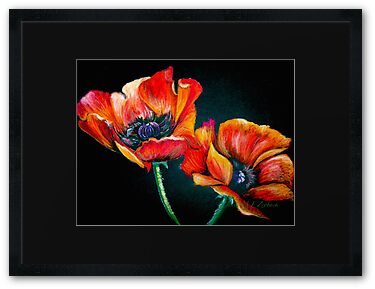 The title of this painting has nothing to do with fashion or comic books but refers to the "Dernier Cri" or last cry of the Poppy Journals, that exciting adventure that gripped us for several weeks last summer…see HERE
When our group of friends last met, it was to sit down and try to analyse the entire sequence of events and to go through the remaining images…although there were many paintings still to be viewed, Nick pulled out one from the bottom of the box titled "Le Dernier Cri"…
"What does it mean" asked Maddy…"the last cry literally or in fashion, the latest rage", he explained..
Taking a good long look at the painting he decided it would make a great souvenir for all of them…who knew when they would meet again..
He put it aside for the time being and turned to the others…he bent over the box..
"Well lets get started"..J.Z.
As I add to each collection in my portfolio, I hope you don't mind viewing a wide variety of works like this one which actually harks back to a series from last summer
Pastel under Watercolour, Pastel over Pastel under Watercolour, Pastel over Watercolour under Pastel, on Indian Paper…..
Nick's Souvenir can be viewed* HERE