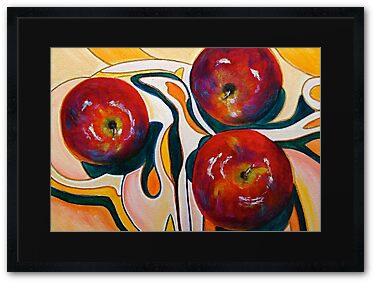 "_*The Pac Rose, also called the Pacific Rose or New Zealand Rose is sweet, crisp, juicy and beautiful. Larger than the average apple with a pink to bright red skin and cream colored inside with a creamy textured. Similar to a Fuji in flavor but doesn't brown quickly once cut.
Originating in East Indies as a cross between a Gala and a Splendor and widely available in New Zealand*_."
I purposely flattened the "landscape" in this painting….it provides a strong contrast to the rounded shapes of these lovely Apples.
After it was finished, I saw a web of highways and freeways in the landscape, yet I had not been deliberately trying to replicate the routes that surround our city….
However, it is always at the forefront of my mind how far some of our food has to travel, and possibly these unconscious thoughts helped to form the intricate background to the Pacific Rose.
Whatever it was has made no difference, as I am perfectly happy with the results.
Pacific Rose is part of the Portfolio collection of over 40 paintings of semi abstract Still Life paintings of different types of fruit, primarily apples and pears…there are two blogs associated with this collection…see samples below and for more of the collection click HERE …