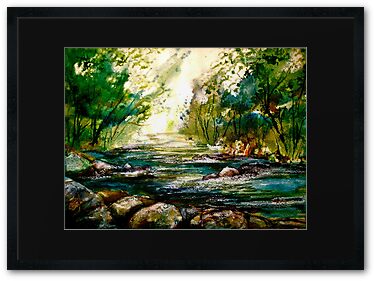 "_*A Memory of Water" is a commissioned work…commissioned by me for myself…the first time I have ever done such a thing…
It is an homage to my childhood, to the river that ran through the town where I grew up…as a child the river played an enormously important part in my life….
It ran behind and way below the houses on the opposite side of my street…we children spent all the years of our young lives sitting on the rocks, feet in the river till we got too hungry to stay any longer and went home, only to return the next day….
Each section of the river had it's own name…we never thought that was peculiar…simply took it for granted that when some one said he lived near Manuel Penge, we knew exactly where that was…it was where the cliffs overlooking the river were sheer and where my brother fell and cut his head after disobeying orders about running down the hill…
Part of the river was shallow and sparkling…that was Moonshine…a secret romantic place you could only reach by climbing down steep tracks through high bushes…
Once we had an elderly Japanese guest staying with us who spoke no English…the four of us kids took him to Moonshine, he struggling through the high bush, and carrying my baby sister…when we got there we stood and gazed at the magic light on the water…to this day I wonder what he thought, and if he understood that we were showing him our greatest treasure…
Those days of endless sunshine seem to stretch to infinity, no end in view…limitless sojourns by the river…sometimes we took picnics with us…they were the best because we never went home till dark…the dark that fell like an enveloping blanket sharply at six p.m*_….Excerpt…"The River" J.Z.
Watercolour on Arches Not Paper
More about the river and to view my childhood paintings click HERE
More Collections click below