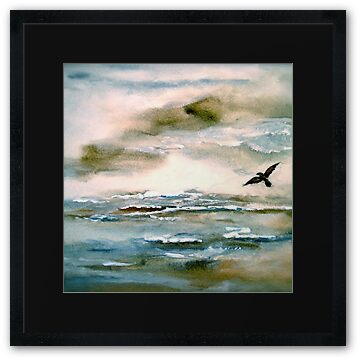 _*I am forever walking upon these shores,
Betwixt the sand and the foam,
The high tide will erase my foot-prints,
And the wind will blow away the foam.
But the sea and the shore will remain
Forever*_…K. Gibran..
"Nova Scotia (pronounced /ˌnoʊvə ˈskoʊʃə/; French: Nouvelle-Écosse) is one of Canada's three Maritime provinces and is the most populous province in Atlantic Canada….the province is almost completely surrounded by water
I left the horizon deliberately vague at this meeting of sea and sky…towards the end of the day it is often hard to distinguish where one starts and the other one ends…it's the misty blues that enthrall…every time"…
Watercolour on Arches CP Paper…..
From the Images of Canada Series…
Samples of my other Winter collections are shown below….






Other series you might like can be viewed by clicking the titles below…
JANIS ZROBACK FINE ART ON LINE.. PERSONAL SITE
JANIS ZROBACK FINE ART AT REDBUBBLE