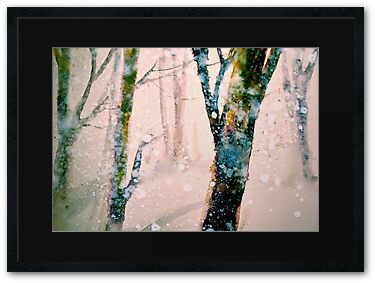 On a certain pale winter evening
should the mind, alerted as it was
by the snake cold touch of the spiraling mist
muse on things you'd rather forget
but which strive in subconscious shades…
If the lines of fancy meander
and will out with the thrill of the past
the lost youth of wilting life,
don't you deny it.
Strain your ear instead
to catch the age-old annals
of the emptied being.
You will find me there
though I be lost…
It will tell you as I did
that we had dreamt,
and will stay on, survive
like grey and white stones by the road….excerpt..Hari Barkakati
Sundown on a pale winter evening tends to engender reminiscences….what more do we have to do, while the wind howls and snow patters on the window panes, than to sit by the fire and remember…the radiance of the embers echoing the soft glow that finds it's way through the trees from the dying sun….
The poet ends by pleading to his love "put the broken bits together some meaning to discover…his last plea on a pale winter evening"…
Watercolour on Arches Not Paper..
From the Images of Canada series…






Other series you might like can be viewed by clicking the titles below…