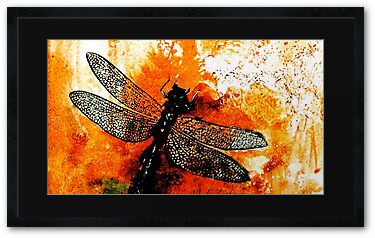 Your delicate wings rapidly beat the air
The sleekness of your weightless body hovers
Curiously observing as though you care
Steadily searching for lifelong endeavors..
Do you bring a message of a tranquil destiny?
Does your evolving maturity convey wisdom?
If I follow, will I find harmony or perplexity?
As you disappear… I am serenely lonesome..Theresa Anne Moore
Continuing my celebration of the earth, but with an entirely new series….."The Nature of Things"..Insects are the first images in the series….
Ironically the first in the series is a Dragonfly which is actually a voracious predator of other insects such as mosquitoes and flies, ants, bees and butterflies, all of which I plan to feature in up coming paintings.
The Chinese seals on the right lower section of the painting are my name in the red stamp…the black stamp means patience…
Inks, Watercolour, and Gouache on Cotman HP