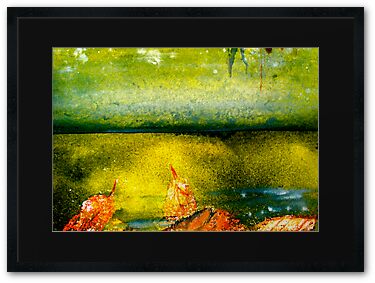 Life and death,
A twisted vine sharing a single root.
A water bright green
Stretching to top a twisted yellow
Only to wither itself
As another green unfolds overhead.
One leaf atop the another
Yet under the next,
A vibrant tapestry of arcs and falls
All in the act of becoming.
Death is the passing of life.
And life
Is the stringing together of so many little passings.
M. Shapiro
I did a little walkabout of the back garden a few days ago, and to my surprise, couldn't see the water in the pond…it was covered with fallen leaves…a tiny animal was happily walking across the tapestry of windfalls, confident it wouldn't drown…so do we help our children, making their paths smooth so they wouldn't fall…
I was about to sweep the pond, but waited till it was safely across…we won't always be here to help our children like this, but hopefully we can teach them to beware of the water lying under the carpet of leaves…it is a small metaphor, but it is indeed one of "life's little passings"
Pastel, Inks, and Gouache, on Handmade Paper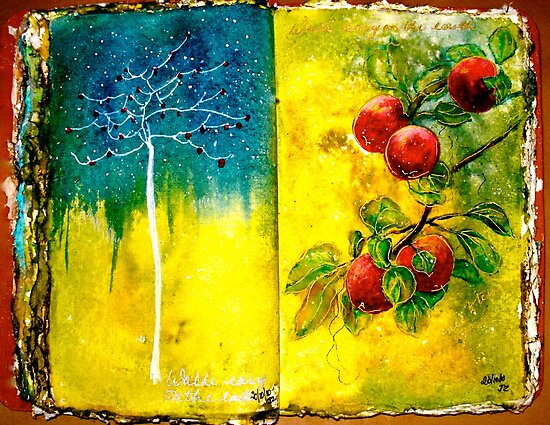 The Journal opened at one of the pages, with the deckle edges of previous paintings showing underneath, on the left
"*Earth Songs" is a brand new series…it is an artist's journal….each section will be a prayer for the earth, for land, for sea and air, for food…. as the pages turn, the images will reflect the seasons, the thoughts and musings of the diarist and will contain many different images, painted or drawn in a semi abstract way…it will be a celebration of the world that surrounds and sustains us, painted in a stream of consciousness manner in a handmade journal*…
I think it is so important to relate what we do to something outside of us….there is a rhythm that underscores all our lives and as artists we are so lucky in that we are able to embrace that rhythm and reflect it in our work…to understand it and to communicate it as best we can…by doing a sort of stream of consciousness drawing or painting, I hope to be able to do that with this journal…. in a way it's me, as a book
…