To live content with small means…cont'd below.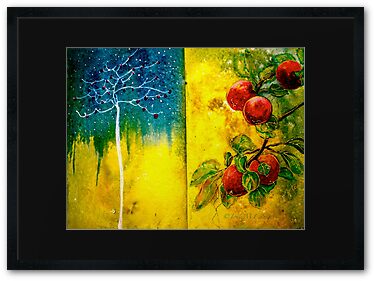 To live content with small means..
To seek elegance rather than luxury,
and refinement rather than fashion..
To be worthy, not respectable, and wealthy, not rich..
To study hard, think quietly, talk gently, act frankly…
To listen to stars and birds, to babes and sages, with open heart…
To bear all cheerfully, do all bravely, await occasion, hurry never..
In a word, to let the spiritual, unbidden and unconscious grow up through the common.
This is to be my symphony."
William E.Channing
2781 Views ..01/02/14
In my writing pages, I wrote After Apple Picking an illustrated story about my family tradition and Thanksgiving here in Toronto Canada…if you have not read it as yet, please click the title here…
Families of all sizes and shapes including my mini one of three, go to pick apples in the orchards that surround the city after dinner on Thanksgiving day…not because we desperately need apples, but because it's a tradition, it's harvest time, it's family time and it's a great way of walking off that turkey dinner…
Many families can only get together on Thanksgiving and they might have travelled hundreds of miles to meet with those they may not have seen in a year…
Inevitably the day is lovely….I can't remember when it wasn't…the orchards are fully prepared for the onslaught of hundreds of people with babies and children descending from their cars ready to enjoy the day…there is a special place for children so parents can get a bit of a break…
Even if you don't pick a single fruit, it's lovely just strolling beneath the trees, or taking pictures in the pumpkin fields, or maybe riding the flat beds to a remote part of the orchards where the rarer apples grow…then satiated with the glorious outdoors, you return home at dusk, arms filled with warm fruit pies that the thoughtful apple producers have baked for us to take away…it's living simply
Watercolour on Handmade Paper..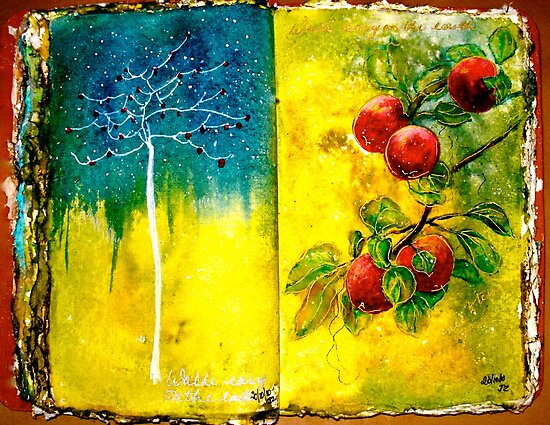 The Journal so far with the deckle edges of previous paintings showing underneath, on the left






Earth Songs" is a brand new series…it is an artist's journal….each section will be a prayer for the earth, for land, for sea and air, for food…. as the pages turn, the images will reflect the seasons, the thoughts and musings of the diarist and will contain many different images, painted or drawn in a semi abstract way…it will be a celebration of the world that surrounds and sustains us, painted in a stream of consciousness manner in a handmade journal…
I think it is so important to relate what we do to something outside of us….there is a rhythm that underscores all our lives and as artists we are so lucky in that we are able to embrace that rhythm and reflect it in our work…to understand it and to communicate it as best we can…by doing a sort of stream of consciousness drawing or painting, I hope to be able to do that with this journal…. in a way it's me, as a book
…

Earth Songs….Blessings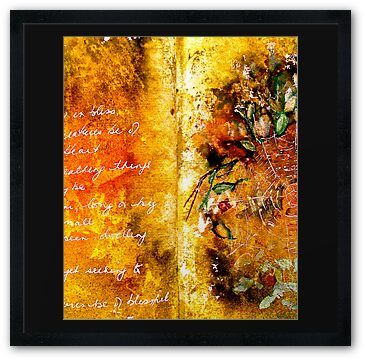 Earth Songs…Bliss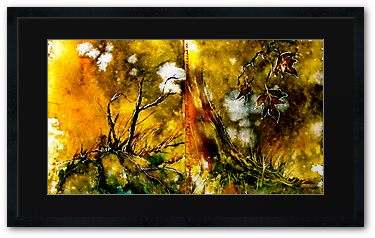 Earth Songs…Sanctuary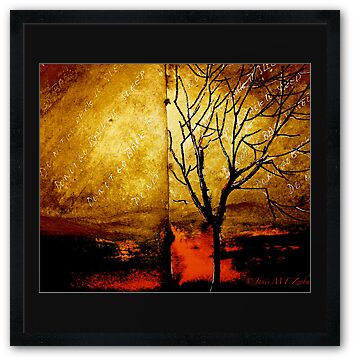 Earth Songs…Secrets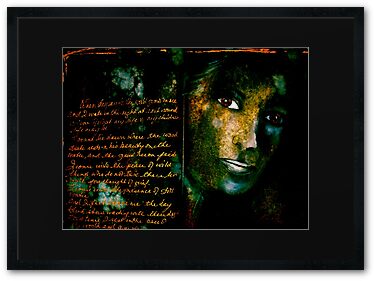 Earth Songs…Peace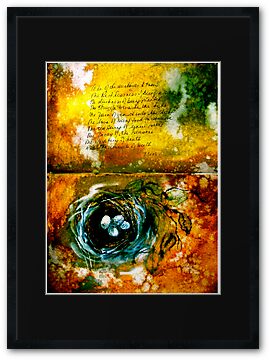 Earth Songs..To Know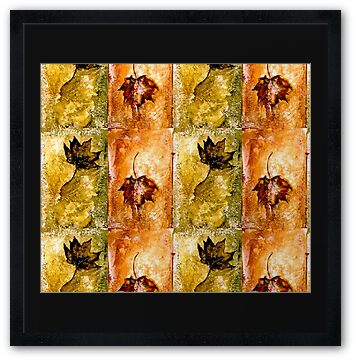 Earth songs..This is the Way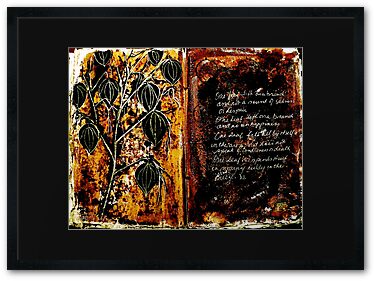 Earth Songs..One Leaf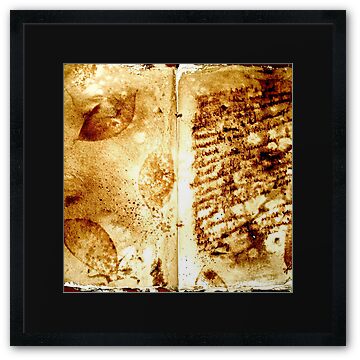 Earth Songs…The World Goes On