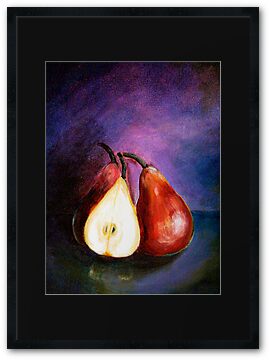 *"Marooned" is another collaboration with DiEtte Henderson and is based on her sepia toned photo Two and a Half *
I chose to do the painting in Acrylic on Canvas, but in the spirit of an oil painting and made them Red Pears instead of Bosc…I titled it "Marooned" as that is the feeling that emerged as I was in the process of creating the work…the three pears huddled together in a sea of warm hues…
Dawn is beyond what I face today
I stretch, as his land, to the sun.
My journey is long, but I rise for the day,
as another attempt is begun,
Where will I be when the moon lights my way,
when the chapter I travel is done ? Mark Stellings.