"Announced by all the trumpets of the sky,
Arrives the snow, and, driving o'er the fields,
Seems nowhere to alight: the whited air
Hides hills and woods, the river and the heaven,
And veils the farm-house at the garden's end.
All day the gusty north-wind bore
The loosening drift its breath before;
Low circling round its southern zone,
The sun through dazzling snow-mist shone.
No church-bell lent its Christian tone
To the savage air, no social smoke
Curled over woods of snow-hung oak.
A solitude made more intense
By dreary-voicëd elements,
The shrieking of the mindless wind,
The moaning tree-boughs swaying blind,
And on the glass the unmeaning beat
Of ghostly finger-tips of sleet. excerpt…R.W.Emerson..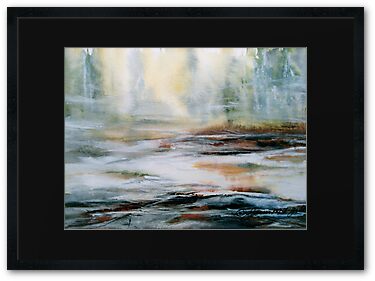 The expression is always that snow falls down…in fact snow more than often falls sideways…it blows and drifts and unlike a rainstorm is mostly silent…Watercolour on Arches Not Paper