Can You Work Without It?.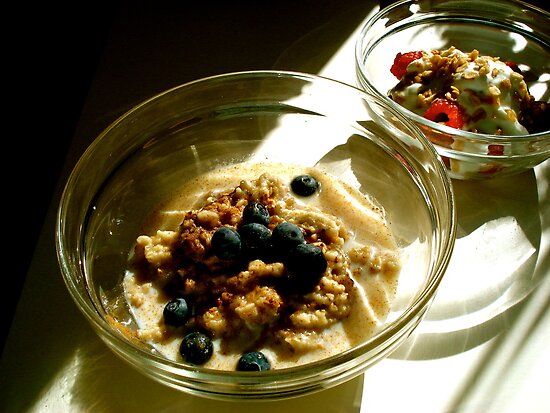 No, not a camera or a paintbrush…can you paint or work without eating breakfast?
I can work on the computer till about nine or ten in the morning without eating, then I start to feel like I'm going to die, but I can't paint on an empty stomach, or I can, but it's painful…there have been many proven reasons to eat breakfast, and most are very important ones like lowering cholesterol and triglycerides…
I've jotted down a few below, which I have adapted (with a little humour), to make them more applicable to us…
It restores your sugar level that was consumed while sleeping…...
It supplies you more energy and nutrients that you'll need for the day….…
Regularly having breakfast can increase your metabolism by as much as 10 percent….…no?
It increases your concentration and makes you focused on whatever you will do for the day….…
It boosts your efficiency making you accomplish more things….…
It makes you less ill-tempered …
It helps you avoid or decrease stress…...
It helps you build healthy and timely eating habits….
It makes you feel less sleepy during the early parts of the day, …
It increases your brain function…..…
It helps you overcome fatigue……
It is the only time that you will feel like a king, ….
Eating breakfast is comforting…...
It exercises the muscles in your jaw…...
It makes you physically train more effectively….…
It is simply the most important meal of the day.
Do you eat breakfast?
What do you like to eat?
Do find you work better if you eat?
By the way the photo above is of my breakfast this morning…oatmeal made with vanilla, topped with cinnamon, maple syrup, 1% lactose free milk, and blueberries…a bowl of raspberries, with greek yogurt and a sprinkling of granola…tomorrow it's an egg day, which will include toast, tea, and a slice of papaya…..taken in my kitchen with light streaming through the window…..