What Do You Do With Them?
What do you do with your failed paintings? I don't know about you but even though I happily tear them up, sometimes it irks me that good cotton paper is going in the trash even though it's the recycling bin
To that end I have come up with some great ways to reuse my discarded watercolours..
Here are a few of them with accompanying photos…
The first is to gesso them over and paint with acrylics on top of the watercolour
Collage is great too, though I don't create them as often..
Make them into pastel paper
Lastly I use the paintings to cover lampshades and things like that by cutting out the areas of the work I like best
My favourite thing is to make something completely different…new paper and paper bowls…
I make new paper which I use for new paintings, stationary, cover boxes, create notebooks, etc..during the paper making process, I add faded pot pourri (the water brings the scent right back), dried leaves, pressed flowers (another craft I do), even herbs, spices like cinnamon and cloves, and fresh leaves…
I sometimes colour the water with spices like turmeric and food colouring..
Another favourite way is to make bowls of all shapes and sizes, not only in the usual way with strips of paper, but by first turning the paintings back into pulp in the same way as I would do to create the sheets of paper, then add colour and shape them…I love their organic unfinished edges and make them in all shapes and sizes to use as decorative pieces, or to hold items on my desk or studio table
Below are some photos of the creations I made from old watercolour as shown in House and Home Magazine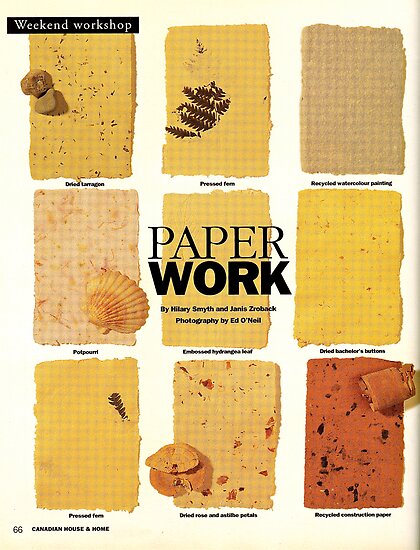 An article in Canadian House and Home, an Interior Design magazine, featuring some of my creations in handmade paper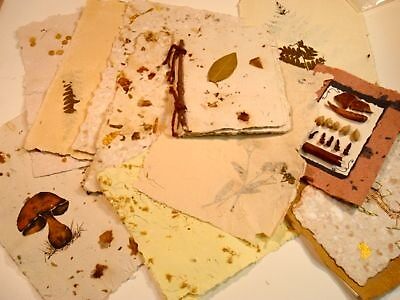 A selection of my hand made stationary and other items…embedded leaves, herbs, spices and potpourri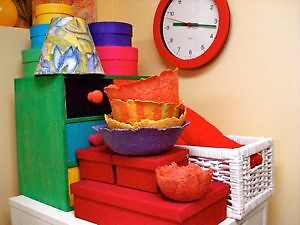 A selection of paper bowls and a lampshade covered with an Iris watercolour, in the studio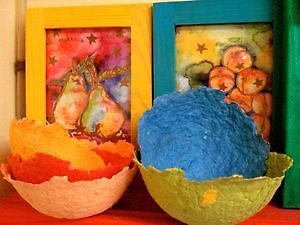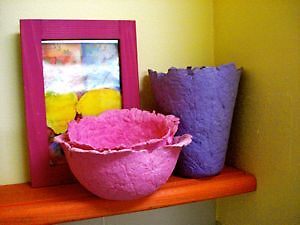 More bowls sitting on a shelf above the sink in the studio..
What do you do with your discarded paintings?