"This Earth Renewal Moon begins at the time of the winter solstice when Father Sun returns from his journey South and begins to bring the warmth that quickens growth in the Earth Mother and all her children. The mineral totem for the Earth Renewal Moon is the quartz crystal, the plant is the birch tree, and the color is white. The elemental clan influencing this position is the Turtle clan. And the animal is the Snow Goose."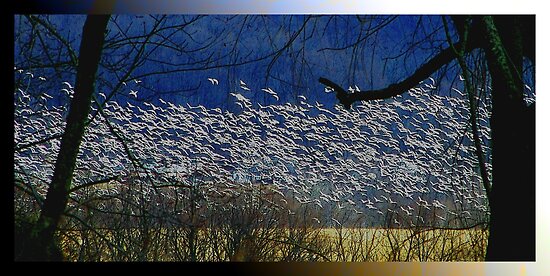 -————————————————————————————————————————————————
Pencil down.
Conversations in my head keep me from concentrating elsewhere. A shimmer of bright colors like a blinding light inside a cave makes its way in the daybreak. I wait, while standing on the edge of the pond, for the inclination to move. My sketch pad slips slowly from my unsteady fingers like a spring making its way over grass covered rocks as it weaves its way down through a shallow meadow. A dragonfly lights on the corner of a long slender reed. You are confused, my friend. This is not the time of year for you. Winter is still in command of the season.
My eyes sting from the frosty air making a trail of tears on my face and stains of rime. Several times I blink to clear my vision because clarity will give me my cause, my reason for waiting in the bitter season frothing in the cold. I know they are there hidden somewhere in the camouflage of snow and the pale white fog of the earth's icy breath. Will I ever be warm again?
What brings them here to this place? It owns no claim to fame or special favor. It is not unlike any other body of water. There is nothing here to draw from the heart an unwavering and steadfast desire making it impossible not to pass by. What tugs at the heartstrings tangling them up in this massive movement to be here … at this place … at the same time every year?
I laugh at the irony. Am I not also caught up in the desire to be here now? My own craving for a glimpse of the migration of pure beauty brings me back from reality to insanity; my passionate, zealous and fiery insanity. The artist is a fool whose blood boils red hot when confronted with his own concept of art. Familiar with this burning, the feeling flows over me as I anticipate the coming attraction.
Chattering of sound in the distance begins to become more distinct as a cloud of white wings appear in the sky. The pounding in my chest tells me that my heartbeat is accelerating in time with the flapping of the white feathered wings whose edges include a touch of black. The snow geese have arrived!
The point of my pencil does not touch the parchment as I fumble with the leaded stick, not removing my gaze from the sky. I am afraid to let the moment pass only to miss it even though I know the lines that I would sketch would steal the image that is forming in front of me. I cannot bring myself out of this reverie of a dream.
So each year at the time of the Earth Renewal Moon, the first moon of the year and the moon of Waboose, Spirit Keeper of the North, marks the return of the snow goose.