Lion (Panthera leo) and Wildebeest (Connochaetes taurinus) clash in classic style in Tanzania's Serengeti National Park.
This shot was taken at 6:22:27 PM and is the second in a series of shots. Please see Lion in wait for the introduction and full story of what happened at 6:22:26 PM…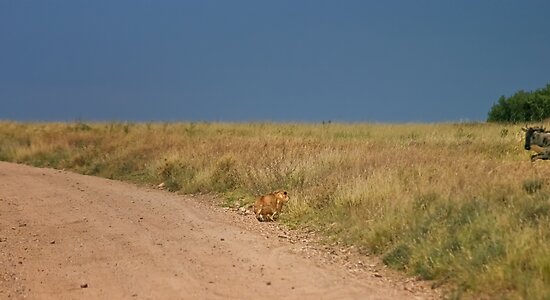 I credit the Camera Gods for gifting me with these captures. But I also credit the instinct and experience of our guide, Israel Mwanga, who knew exactly where and how to position us for the best vantage point. Of course at the time, we couldn't understand why he pulled us forward and turned the vehicle away from where we could watch the lioness on the left side of the road. But she soon spooked the wildebeest who ran off to the right and we figured, no matter, opportunity lost. But then Israel's motivation became clear. The lioness's son was hidden in grass to the right, cut off the wildebeest and frightened her into an about-face, running her directly into the waiting arms of his mother. And there we were, miraculously positioned with a front row seat.
Africa. Truly a land of natural wonders and magic.
Shot handheld using:
Canon EOS Digital Rebel (the original!) with Canon EF75-300mm f/4.0-5.6 IS USM lens
Focal length 300mm, Exposure 1/200 sec at f/5.6, ISO 400
Featured by the groups
Mozambique & All African Countries November 17 2010
Wild Cats In Their Environment July 20 2013
---