Fisherman in the Fog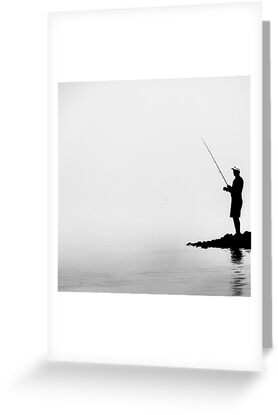 I took this photo while pre-fishing for an upcoming bass fishing tournament on Berlin Reservoir.
I don't think I have ever seen fog this thick. We had about 50 feet of visibility… Beyond that, it was completely white.
It was pretty disorientating being out on the water being surrounded by this white wall of fog no matter which direction you looked.
Hearing cars and trucks going over a bridge near by was the only reason that I had any clue where I was. Is that insane?
And to make matters worse, my internal compass (which I sometimes brag about how accurate it is), completely disappeared.
The fog didn't lift until it was close to 11:00! You would think that there would have been an incredible topwater bite going on, right? Nope… not one taker!!! But then again, these Berlin smallmouth can be super finicky.
For whatever reason, these fish were just totally shut down. I threw everything but the kitchen sink at them, and only ended up with one keeper. Needless to say, things didn't look to promising for the tournament we had the next day.
But, on Berlin, if you catch 5 legal length fish, that is an accomplishment. Yup… Welcome to Berlin… the lake where patients is a must lol
There were horrible thunderstorms the night before the tournament. Sometimes these storms can really turn the fish on, but sometimes it can also give them a serious case of "lock jaw".
Woke up at 3:30 am and got to the ramp at 5:00. Launch was at 6am. I was happy to see that the rain knocked the fog down because running a boat on a foggy lake with 79 other bass boats is not my idea of a good time… lol
80 boats lined up and were ready to go when their number was called. We were right in the middle of the pack.
Just before they started calling numbers, the sky turned black, and the lightning began to rumble.
Great… now we've got lightning to deal with? Lightning scares me (too bad it doesn't scare my tournament partner!)
But, even with the lightning, they let us go. This really surprised me because I honestly couldn't think of another tournament director that would have allowed us to launch in weather like this.
So off we went. Fishing was slow at first… I thought we may be in for a very long day. Meanwhile, those ominous storm clouds were marching right towards us. You could see the curtain of rain off in the distance.
Next thing ya know, the storm is directly overhead. My tournament partner seemed unfazed by the commotion going on all around us.
I stood on the lowest part of the boat and kept my rod tip down in my attempt to not get struck by this insane lightning. My partner laughed at my antics, but I truly was scared. I'm not quite ready to die if ya know what I mean.
Next thing I knew, I felt a little "tick" on the end of my line. Now my attention is off of the pouring rain, lightning, and deafening thunder.
It was hard not to set the hook the instant I felt it. Sometimes desperation makes you do stupid things like that. I knew that I was fishing for 5 bites that day. If I screwed up one of those bites, I would most likely not have another fish catching opportunity.
I waited patiently as the fish mouthed my bait. As soon as I felt pressure on my line, it was game on! I set that hook and reeled the first keeper of the day right onto the boat and into the livewell.
Thank god, the monkey was off my back.
10 minutes later, my partner catches a nice one and adds that to the livewell.
A half hour later, I add a third keeper to the livewell. Ah…. things are coming together nicely!
Then we had a 3 hour lull… I mean, not even one single bite!!!
We needed two more fish bad! We moved around to a few different spots before we were able to put another keeper in the boat. Okay, now we've got four, and I was thinking that we actually had a good chance of winning this tournament! Now we are both super excited. Of the 4 fish in the livewell, there was one that was a good 3.5 pounds. On Berlin, this is HUGE. This would be our "Kicker" fish. It was only 11:00 am. Still plenty of time to catch another fish. All we needed was one more fish. A two or two and a half pounder would absolutely put us in contention to win this thing!
Finally, I managed to put the fifth fish into the livewell. It was a keeper, but only a pound and a halfer.
Now we have to cull, or upgrade the fish in our livewell.
Once again, the bite completely died, and for the rest of the day, there was only one more bass caught. Unfortunately, this bass was smaller than any of the bass that we had in the livewell, so we let him go. We needed a bigger fish to upgrade.
We kept our lines wet until just a few minutes before we were due back in.
Before we brought our fish to the scales, rumor had it that of the eighty boats competing, there were less than ten that caught their limit of 5 fish. This was good news to us!
When other fishermen had heard that we had 5 fish, they started coming over to the boat to watch us put the fish into the weigh-in bag.
My partner filled the bag with water, and I gathered the fish from the livewell. I got four of the fish into the weigh-in bag no problem, but this last bass, which happened to be the "big boy" was really putting up a fight. He did everything in his power to avoid me touching him. I finally managed to get my thumb into his mouth, and this thing chomped down on me! I mean, he bit me hard!!! It startled me, so I pulled my arm out of the livewell in disbelief. Now the guys are all making fun of me. I swear, that angry bass bit me!
So back into the livewell I go to catch this crazy bass. He thrashed around and ended up sticking one of his dorsal fins directly into a vein on my wrist.
Instantly, I started bleeding like crazy, and my wrist swelled up like I had a hard boiled egg right under my skin. The good news… I finally got this monster bass into the bag so we could get our fish to the scales. . Meanwhile, my wrist is huge, bleeding, and turning some interesting colors.
My adrenaline was pumping, and all I wanted to do was weigh these fish to see where we stood.
Our final weight was 10.69lbs. Winning weight was just a hair over 12lbs. We ended up in 7th place and we cashed a check!
Gosh how I love fishing!