One must reach to grow….
Watching this little girl explore a shallow pool of water with a very tall lightly flowing waterfall was absolutely precious.
She was mesmerized by the waterfall and begged her mom to go into the water to "feel" it. She was relentless, and her Mother finally gave in.
She worked so hard at holding her dress up to make sure that it didn't get wet or dirty.
The little girl navigated the rocks ever so carefully, to get as close to the waterfall as possible. She couldn't quite reach the center of the waterfall, but she was absolutely delighted and amazed to just feel a drop of the water that had just fallen over 200 feet just to reach her hand.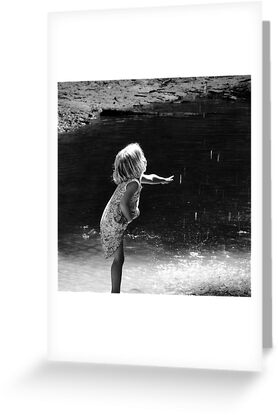 Camera: Panasonic Lumix FZ28

Views – 54
Fav – 4

Ohio Photographers Group – 8/2011
The Magic of Black and White Photography – 8/2011
International Women's Photography – 8/2011

Top 10 – Candid Photographs "September Avatar" challenge 8/2011
Top 10 – Streams & Stream Crossings Stream and Man challenge