Outcast #4
Species: Rare partially leucistic Piebald Squirrel
Location: Geauga County, Ohio (USA)
Camera: Panasonic Lumix FZ28
Here is a collage of some of the other squirrels that call my backyard their home.


Guess who came back for breakfast this morning? My new beautiful little friend, who I now call "Lucy".
I've gotten a glimpse of the "rear" view, and I'm pretty sure that this is a female, although her aggressive and outgoing attitude sure do make me think that she is male. lol
Yesterday, she was all about eating the oiled sunflower seeds that I have in my bird feeder.
But this morning, she was totally into the shelled corn that I have been leaving out for the squirrels (in my attempt to keep the squirrels off of the bird feeders)
Seeing her again this morning (this is only the second time I have ever seen her) just totally made my day. Now I guess I'll just have to wait to see if she comes back again. I don't think I could ever get enough of her sweet little beautiful blue eyes!
Update: Today is 2/20/11, and it has now been one week since I saw Lucy for the first time. I have seen her in my backyard enjoying the corn that I have left out for her on 3 other days. Hopefully this means that she will stay put because she seriously just makes my day every time I see her. Yesterday I managed to get some incredible video of her. It was on a very windy day, and her hair was blowing like crazy. I had someone suggest to me that I should not post the video because he feels that someone like National Geographic may want to purchase it as exclusive footage. What are your thoughts?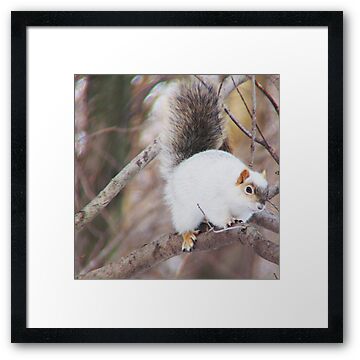 2nd Place – JPG Castoffs Animals in the Wild