Mail Pouch Barn
Location: Ashtabula, Ohio (USA)
Americans flock to Disney World, vacation at the shores, and visit the nation's landmarks, but few things inspire 500 mile drives with cameras in hand as do Mail Pouch Barns. One of the most highly sought after sights along a rural highway is the vision of their white letters resting upon a fading black background. No longer do the words promote a now tabooed habit; instead they represent a simpler time. Mail Pouch barns might be fading dinosaurs left along the roadsides, but once they were the kings of advertising.
In 1890 the Bloch Brothers, owners of Mail Pouch Tobacco, decided to take advertising to a new location, outdoors. The predecessors of billboards, barns alongside the roads seemed to be the obvious locations for advertising. Offering to the owners a free paint job, sometimes a small cash settlement, and a plethora of free samples, the Bloch Brothers began their advertising campaign.
Beginning with a six man crew, the company set out to paint advertisements but instead created what would be nostalgic gold. Repainting barns as the paint faded and often painting over previous advertisers, the slogan "Chew Mail Pouch Tobacco Treat Yourself to the Best" dominated barn sides until the 1960s when both the ban on tobacco advertisements and the 1965 Federal Highway Beautification Act squelched the painting. The outdoor advertising campaign officially ended 1969.
Source for information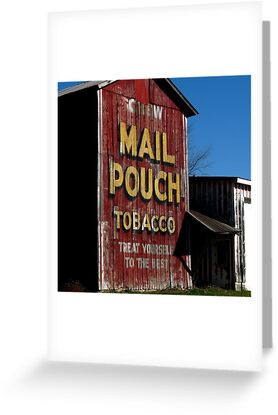 Views – 38
Fav – 2
Featured – 3

1/11 Midwestern United States Photography
1/11 Country Bumpkin
1/11 Old Things