Location: Montville, Ohio USA
Click the thumbnail of the calendar below to see the complete Barn and Shed calendar collection.

It is a beautiful Autumn morning in Montville, Ohio. Montville is an extremely rural area with many working farms, as well as a large Amish community.
The Amish typically pass down their land from one generation to the next, and it is not uncommon to see a family cemetery directly behind or next to their home.
While driving through this area, you will see horses pulling buggies, horses used for plowing fields, and laundry hanging on a line outside.
The streets are scattered with working farms and silos.
I love driving through this area. I love the simpleness of the lifestyle.
I stumbled across this beautiful barn while visiting a very old Amish cemetery. The backyard of this barn and farm house is the cemetery, separated only with an old split rail fence.
Camera: Panasonic Lumix FZ28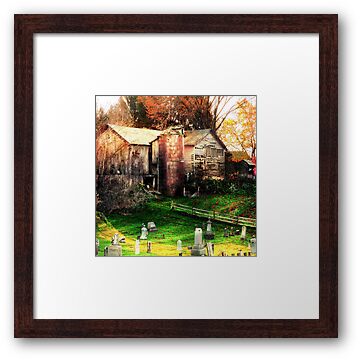 Featured in the Following groups
10/31/10 "Down on the Farm"
11/1/10 "The Woman Photographer"
11/12/10 "The Ohio Photographer"
11/16/10 "A Home Somewhere"
11/18/10 "Old Things"
Views – 143
Featured – 5
Favorite – 6
Top 10 – 1

12/2010 Top 10 Midwestern United States "Down on the Farm" challenge
3/2011 Top 10 Preserving History Group Resting Places challenge