Location: My backyard (Geauga County, Ohio)
Camera: Panasonic Lumix FZ28
I have a bush in my backyard that this beautiful male Cardinal could just not get enough of! He was here for days, gorging on these little berries.
So of course I had to take a picture of him because he was absolutely gorgeous.
What makes this photo very special to me is the fact that this was the very first picture that I took with my new camera.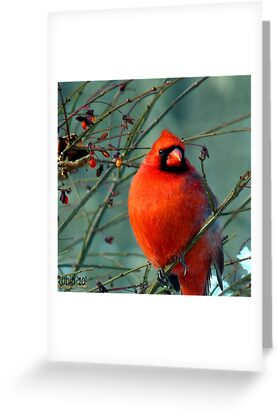 9/27/10 All Things in the Natural World
9/30/10 RedBubble Homepage Feature
10/1/10 Pets Need a Hug
10/1/10 We just take pictures
10/9/10 Ohio Photographers
9/21/11 A different perspective

Top 10 – A Different Perspective Bright/Vibrant Colors
As of 9/21/11
Views – 1055
Favorite – 30
Featured – 6