Helichrysum bracteatum, commonly known as the Strawflower or Paper Daisy, is a flowering plant in the family Asteraceae, native to Australia. Strawflower is an upright, warm-weather annual or short lived perennial with daisy-like flowerheads in yellow, pink, bronze, cream, purple or white. Strawflower has thin, lance shaped, grayish green leaves up to 5 in (12.7 cm) long, and sandpapery, hollow, branching stems that may reach 3-4 ft (0.9-1.2 m) in height. From late spring until fall, strawflower bears flowerheads about 2 in (5.1 cm) across singly or in few-flowered clusters on the ends of the branches. What look like ray flowers or petals are actually bracts (modified leaves) surrounding the central corolla. The bracts are papery with a straw-like, crackly texture, hence the common name. The corolla is like the disc of more typical daisies, composed of many tiny florets. There are no ray florets at all.
The wild form of strawflower has golden-yellow bracts and a yellow or brownish corolla within, but gardeners have developed strains with many other colors. 'Dargon Hill Monarch' has golden-yellow flowerheads to 3 in (7.6 cm) across. It and 'Diamond Head' are shrubby and perennial in mild winter areas. The Monstrosum Series are annuals with double flowers in red, orange, pink or white. They get about 3 ft (0.9 m) tall. The Bright Bikinis Series of annuals also have 3 in (7.6 cm) double flowers but are dwarf, reaching only about a foot in height. There are many other cultivars in the trade, some of which may prove, upon further study, to be distinct species.
Strawflower is the everlasting flower of choice for dried floral arrangements. The papery bracts dry beautifully without losing their color or shape, and they last indefinitely. The pompom-like bracts of the double flowered cultivars are especially desirable in arrangements. To grow for cut or dried flowers, pinch off side shoots to encourage larger (but fewer) blooms. Cut stems just as flowerheads begin to open and hang upside-down in a warm airy place to dry.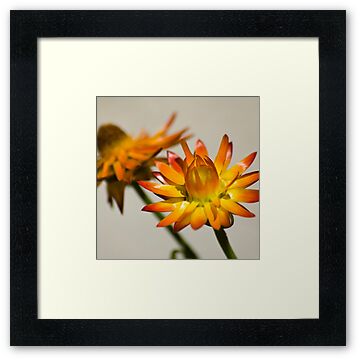 Nikon D90
70-300mm @ 300
F8, 1/640
RAW
ISO 200
12/19/09 – 644/23