Taken at Caloundra on QLD's Sunshine Coast, Australia. I had been having a hard time finding a pleasing composition for the rise of the sun on this morning, so I settled for this as I ran out of time. I wasn't too fond of it at the time, but after glancing over the scan here and there I've come to like it's simplicity, despite the lack of detail to be had.
Shot with a Canon EOS 30 loaded with Velvia 50 transparency film and a 17-40L lens, then scanned with an Epson V700.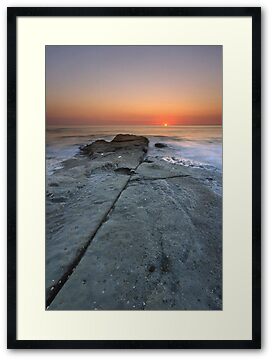 Featured in World Wide Sunsets – November 2011
Featured in Colourists – November 2011
Featured in Film Photography – November 2011
Featured in Colour & Light – November 2011
Featured in The Landscapes of our World – November 2011
Featured in Light in the Darkness – November 2011
My Images Do NOT Belong To The Public Domain. All images are copyright © Jason Asher. All Rights Reserved. Copying, saving, downloading, altering, displaying or redistribution of any of these images without written permission from the artist is strictly prohibited. Non-compliance with these terms WILL result in legal action.