The elusive Curtis Falls in Mt Tamborine National Park, QLD. Those who've been there may wonder why I say elusive as these falls are probably the most popular, most over-shot falls in Queensland, but I'm also sure more than a couple of people have experienced horrible lighting splitting the falls in half shadow half direct sunlight when attempted anytime after 9am! I made sure to get there bright an early after a sunrise at the coast to counter this, and I think I've finally gotten an image (and another one or two to come too hopefully!) of the location I'm happy with.
Shot with a Canon 7D, 10-22mm lens and a 105mm B+W polariser.
Shutter: 30 seconds
Aperture: f/11
ISO: 100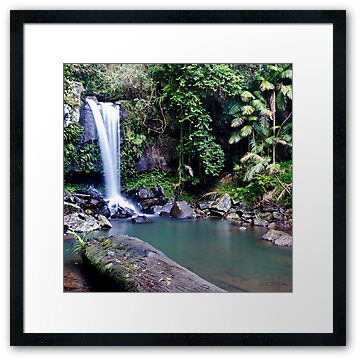 Featured in Artists Universe – August 2011
Featured in Australia! You're Standing In It – August 2011
Featured in Around the World – August 2011
Featured in In & Around Brissie – August 2011
My Images Do NOT Belong To The Public Domain. All images are copyright © Jason Asher. All Rights Reserved. Copying, saving, downloading, altering, displaying or redistribution of any of these images without written permission from the artist is strictly prohibited. Non-compliance with these terms WILL result in legal action.