A darker rendition of the typical Old Melbourne Gaol scene. This film camera only had a 10 second timer and I was short a cable release for it, so I was attempting to time my shots so other visitors didn't walk into the frame as the timer counted down – as you can see I had no such luck with this one, but now I quite like the ghostly effect it has given the image, so here it is straight from the camera bar a touch of sharpening.
Shot with a Canon 300v loaded with Ilford SFX 200 and a 17-40mm L lens, then scanned with an Epson V700.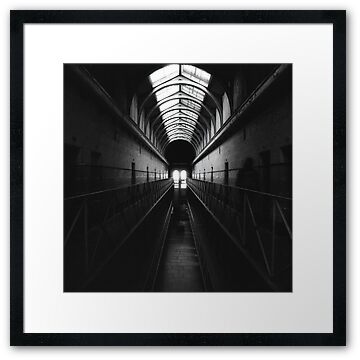 Featured in Outside The Box – July 2011
Featured in B&W Photography – June 2011
Featured in Film Photography – June 2011
Featured in A Place To Start – June 2011
Featured in Artists Universe – June 2011
Featured in Live, Love, Dream – June 2011
My Images Do NOT Belong To The Public Domain. All images are copyright © Jason Asher. All Rights Reserved. Copying, saving, downloading, altering, displaying or redistribution of any of these images without written permission from the artist is strictly prohibited. Non-compliance with these terms WILL result in legal action.