The male Green Jumping Spider (aka) Northern Green Jumping spider has an almost primate like appearance, unlike the distinctive patterns that the female adorns.
These jumping spiders are known as the largest in Australia, I'd say maybe up to 2cm long, and can give a painful (though non-venomous) bite if they need to.
Found in Brisbane, Australia.
Shot with a Canon 7D, 100 f/2.8 L, kenko extension tubes (68mm) and mt24-ex. Processed in Photoshop CS5.
Shutter: 1/250th
Aperture: f/22
ISO: 100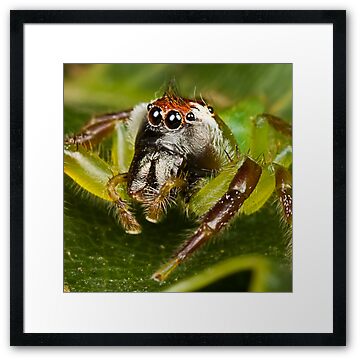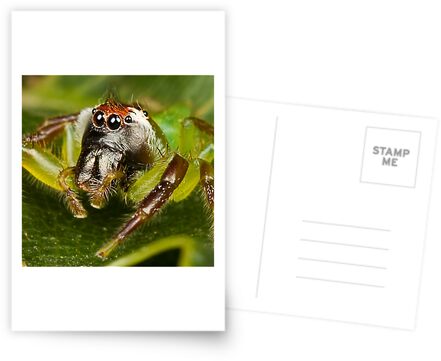 Featured in Exclusively Extension Tubes – November 2010
Featured in The Best of Red Bubble – November 2010
Featured in Canon DSLR – November 2010
Featured in Insects, Bugs and Creepy Crawlies – November 2010
Featured in Closeups in Nature – November 2010
Featured in Queensland – November 2010
My Images Do NOT Belong To The Public Domain. All images are copyright © Jason Asher. All Rights Reserved. Copying, saving, downloading, altering, displaying or redistribution of any of these images without written permission from the artist is strictly prohibited. Non-compliance with these term(s) WILL result in legal action.