Also known as the Green Long Legged Fly. Found commonly thoughout Brisbane where this was shot, these scavengers are also known to prey on other insects larvae. They are also very small, with the biggest i've seen being about 10mm long.
Shot with a Canon 7D, 100mm f/2.8 L lens and kenko extension tubes. Processed in Photoshop CS5.
Shutter: 1/250th
Aperture: f/16
ISO: 1600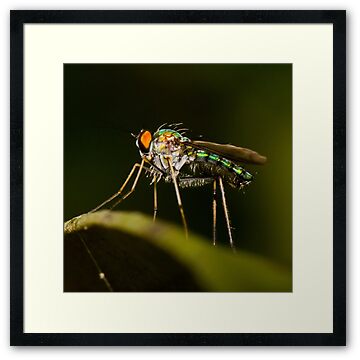 Featured in Butterflies, Moths & Other Winged Insects – November 2011
Featured in High Quality Cards – July 2010
Featured in The Beginners Corner – July 2010
Featured in That One Great Shot – July 2010
Featured in Exclusively Extension Tubes – July 2010
My Images Do NOT Belong To The Public Domain. All images are copyright © Jason Asher. All Rights Reserved. Copying, saving, downloading, altering, displaying or redistribution of any of these images without written permission from the artist is strictly prohibited. Non-compliance with these term(s) WILL result in legal action.