A shot of an Australian Paper Wasp found perching on a leaf in my backyard in Brisbane, Australia. Despite his persistence in keeping his looking-annoyed-face, he was otherwise happy to pose for a few seconds.
These wasps are known to protect their nests quite aggressively, so it was lucky I found him well away from the other workers.
Shot on the 19th of April 2010 with a Canon 7D, 100mm f/2.8 L macro lens and extension tubes. Processed in Photoshop CS5.
Shutter: 1/125th
Aperture: f/16
ISO: 200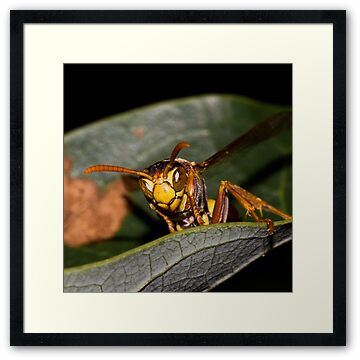 Featured in Worlds Most Amazing Photographs – July 2010
Featured in Photography 101- June 2010
Featured in Exclusively Extension Tubes – June 2010
Featured in Focus And Lighting – May 2010
Featured in Insects, Bugs and Creepy Crawlies – May 2010
Featured in The World – May 2010
My Images Do NOT Belong To The Public Domain. All images are copyright © Jason Asher. All Rights Reserved. Copying, saving, downloading, altering, displaying or redistribution of any of these images without written permission from the artist is strictly prohibited. Non-compliance with these term(s) WILL result in legal action.