I was watching this skater trying to get this grind perfect for 40 min. Every time he used to get near the bowl, I used to hear his heart beating (apparently, as I understood much later from his fellow biker, he had broken his ankle a few months ago trying for the same grind).
As I watched him fail time and time again, I started to leave. Just when I packed my camera, he pulled off his most feared run with a perfect grind and landing..
Although I couldn't capture the joy on his face, this fall will always remind me of his triumph..
Perseverance paid off!
---
Another version: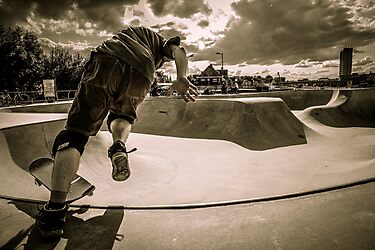 _______________________________________
Winner: HUMANS AND SPORT CHALLENGE Challenge – ACTION SHOT Group
challenge page
Top Ten in:
Sports Challenge – Absolute Clarity Group
Alter Ego Group – 02/2013
"Its What Moves Me" Group – In Motion
_______________________________________
Featured in
"ACTION SHOT" – 17/12/2012
"Amateur Photographer's Association" – 11/01/2013
"European Everyday Life" – 15/01/2013
"Creative, Talented and Unknown" – 08/02/2013
"Moody and Evocative" – 12/02/2013
"Men At Work" – 23/03/2013
"High Quality Images" – 12/04/2013
"The World As We See It or As We Missed It" – 02/07/2013
"The World As We See It , or as we missed it" – Editors Weekly Choice Ending July 7th, 2013 – 2nd Runner-Up!
"Wide Angle Photography" – 02/09/2013
---