Watercolor on paper 250g/m 30X40cm
Polar Bear +cubs
Featured 2010 in:
Art & Collectables Sales Group
Art At It's Best
All Things White
All Soft and Cuddlies Group
Featured 2011 in:
Great Showcase Paintings
Playful & Photogenic Animals
Love and Hugs For All
The Best of RedBubble
Painted Nature & Object
Featured 2012 in:
Painted Nature & Object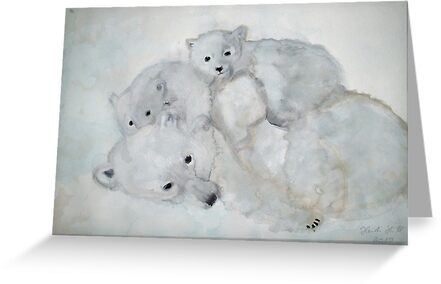 Last year our newspaper had this picture and I cut it out and placed it to other pictures that I want to paint!
The way the mother is giving her love to the cubs, is I think realistic to all viewers.It's a pitty, that we don't cherish such natur beauty.
Dies ist eins meiner lieblings Bilder. Ich hätte nie gedacht, daß ich es so hinbekommen würde.Mit viel Geduld und Pausen, damit die aufgetragene Wasserfarbe trocknen konnte, habe ich es geschafft.
Ich bin sehr stolz, daß es so beliebt ist bei den RB-Freunde
IUCN Red List: Vulnerable
In May 2006 the International Union for the Conservation of Natur added the polar bear to it's Red List of the worlds most imperiled animals, predicting a 30% reduction in the polar bear population in the next 45 years.
The young are born from Nov. thru Jan, while the mother is hibernating. Cubs will stay for at least 2 1/2 years with thier mother.
Polar bears have the lowest reproductives rates of any mammal.