Taken in Somerset UK in August when the Lavender was not at its best, though the scent was wonderful, so with some HDR, editing and softening in Picasa and with an added moon taken last night, am hoping this is what it will look more like when I next visit! They actually arrange Sunrise and Sunset Photographic sessions by appointment.
.
Lavender is grown and harvested for its essential oil on our farm. Discover the wonders of Lavender and enjoy the sight of the fields in full bloom. Find out how we plough, plant, weed, harvest and distil the essential oil. Based in the village of Faulkland, Somerset Lavender is open to visitors throughout the summer months.
Wander at will through our Lavender Garden where we trial over 20 varieties of Lavender. Breathe in the scent and notice the differing qualities of each plant, then rest awhile in the Rose Arbour. In the Lavender Field, see over five acres of Lavender, walk through the field and absorb the sight of more than 50,000 Lavender plants with bees humming, collecting pollen to make our honey.
Our healing garden is packed full of useful herbs from the commonplace to more unusual varieties: Thyme and Lemon Balm, Arnica and Echinacea to name only a few. Sit on our camomile seat and take in the wonderful scent. Our Lavender Garden was planted in 2003 and the five-acre field in 2004. This year we will be planting another 5 acres of lavender
33 Favs Nov 2013
266 View Nov 2013
.Featured in Oct 2013
Featured in Oct 2013
Featured in Dec 2013
TOP Ten Place in 'V for Violet'Challenge for Dec 2013
RB EXPLORE Featured Dec 2013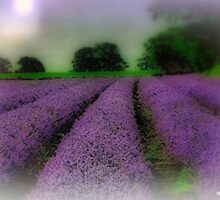 Moon and Fields taken with an Olympus E520 DSLR
1/160s
f/5.6
f/l 40.0mm
iso 100
Moon
1/2s
f /5.6
f/l 42.0mm
iso 400