"I wonder if I've been changed in the night. Let me think. Was I the same when I got up this morning? I almost think I can remember feeling a little different. But if I'm not the same, the next question is 'Who in the world am I?' Ah, that's the great puzzle!"
~Lewis Carroll, Alice in Wonderland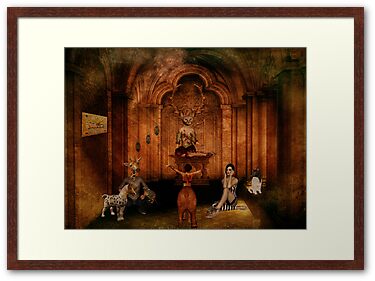 Inspired by dreams of "shape shifting"
Shape-shifting is a type of meditation on the relationship between humankind and nature, in particular animals. Shapeshifting is based on assuming certain characteristics of an animal. Traits and talents are also included in these characteristics. These characteristics, traits, and talents are assumed for a limited time and for a particular purpose. A shape-shifter is able to change shape either at will or under special circumstances."
Composed in Photoshop with layers upon layers, clips and cuts and blending bodies to new heads to create the shape shifted models. Effects, lighting, filters, blends, color adjustments, backgrounds, and textures have been used.
Background courtesy of Lil-Mz of Deviant Art
Clock on wall courtesy of JInxmim of Deviant Art
Hanging sconces courtesy of CB-Stock of DeviantArt
Rats courtesy of CB-Stock of DeviantArt
Cat is purchased stock by Shoofly Stock of Deviant Art
1/2 Dalmatian Dog is purchased stock by Shoofly Stock of Deviant Art
Horse head is purchasee stock by Shoofly Stock of Deviant Art
Giraffe is purchased stock by Shoofly Stock of Deviant Art
Male model courtesy of JuJukittychick of DeviantArt
Center top Female model bottom courtesy of Justalittleknotty of DeviantArt
Cat head is purchased stock by Shoofly Stock of Deviant Art
Antlers courtesy of
Elephant Rear courtesy of of Alegion-Stock of DeviantArt
1/2 Model on elephant courtesy Poserfanstock of DeviantArt
1/2 Rat Woman courtesy of CB-Stock of DeviantArt
(All stock figures had excess removed and were sized to fit for combo shape shifting figures)