"If thou openest not the gate to let me enter,
I will break the door, I will wrench the lock,
I will smash the door-posts, I will force the doors.
I will bring up the dead to eat the living.
And the dead will outnumber the living."
~Ishtar's Descent Into the Underworld
Something unusual for me to create, but this came through a dream (night terror) last night of further encounters with Adepts.
Composed in Photoshop with many layers, stock images, adjustments, lighting effects, blending modes, color adjustments, and textures.
Backgrounds, crows, snakes, skulls, and pumpkin purchased stock from ShooflyStock
Model courtesy of Lindowynstock
Textures courtesy of distressed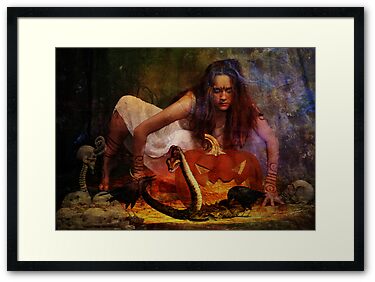 Please visit my website at PineSingerImgaes