"May all your weeds be wildflowers"
~Unknown
Red clover photographed in the Bashakill Wetlands, Wurtsboro, New York, USA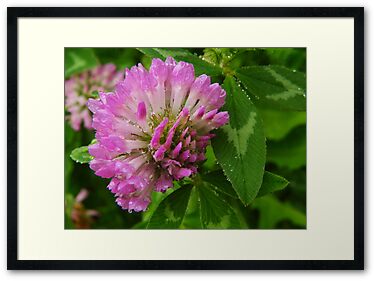 This wildflower is in the Pea family.
This perennial clover with pink to reddish purple flowerheads is a weed of lawns, orchards, and turfgrass.
It is an introduced biennial or short-lived perennial herb; upright to spreading to drooping, branched, smooth or softly hairy, sometimes hollow stems.
Height: 6-36 in
Leaf: alternate, trifoliate; 3 leaflets obovate to elliptic, to 2.5 in (6 cm) long and half as wide, pointed or rounded; often hairy above and below, usually marked with an inverted V above; with long stipules.
Flower: small, pink to reddish purple to violet, 0.5 in (12 mm) long or more, with 2-lipped calyx; in round to egg-shaped terminal cluster, 1-1.5 in (25-38 mm) diameter, of 50-200 flowers; subtended by a trifoliate bract; flowerhead sessile or on stalks to 1 in (2.5 cm) long.
Fruit: tiny ovoid pod, to 0.2 in (5 mm) long; 1-2 asymmetrical yellowish seeds.
Red Clover flowers April to October, in open, moist or dry sites: old fields, pastures, roadsides, disturbed areas, turfgrass, lawns, orchards; usually below 3300 ft (1000 m); also widely cultivated for pasture management, landscape restoration, soil improvement.
Its range is Native to the Mediterranean region; introduced from Europe in the late 1600s as a pasture crop; escaped and naturalized in all 50 states and every Canadian province except Nunavut.