"Do not go where the path may lead, go instead where there is no path and leave a trail." ~Ralph Waldo Emerson
Wild Columbine growing amid wild garlic in Unionville, New York, USA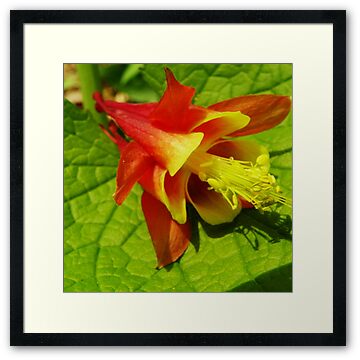 Also known as Red Columbine, This wildflowers is in the Buttercup family.
It is a nodding, red and yellow flower with upward spurred petals alternating with spreading, colored sepals and numerous yellow stamens hanging below the petals.
The flowers are about 1-2" long, with sepals 5, red and petals 5, the blade is yellow and the hollow spur is red. Stamens form a column.
The leaves are about 4-6" wide, compound, long-stalked, and divided into 9-27 light green 3-lobed leaflets.
The fruit is beaked, a dry pod, splitting open along inner side.
Columbine grows to about 1-2', flowering from April-July, in rocky, wooded, or open slopes.
Its range is Ontario to Quebec; south throughout New England to Georgia; west to Tennessee and Wisconsin.