June 2012 Juried Invitational Exhibition
Final Project for Sojie 16 Landscape and Light
See full description for all stages of the work in progress for the translation of
of "Kenart"http://www.redbubble.com/people/kenart: Songs of the Mists and Watching
See full description for all stages of the work in progress..
Sojie 16 Project Landscape and Light
WIP#1 I've did a quick layout in watercolor pencils on 11 × 15 inch Coldpress 140lb watercolor paper.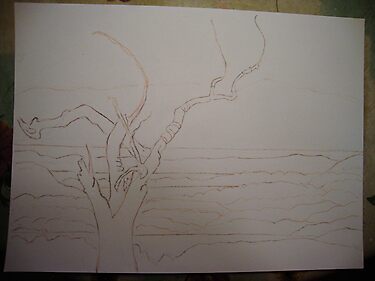 Although I love the owl in the image, I am thinking of not including that in my translation and just concentrating on the landscape layering behind the stark look of the tree which attracted me to this image.
WIP #2 I used masking medium on the tree, water areas and some areas of the sky and added a light overall watercolor wash using cadmium yellow, cadmium yellow pale hue,raw sienna, ultamarine blue, cobalt blue and cadmium red pale hue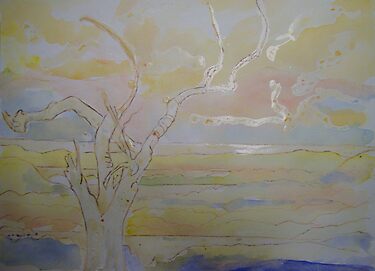 WIP #3 added a little bit more darker tones using raw sienna, cadmium red pale hue and ultamarine blue to the sky and indigo blue and cobalt blue to landscape area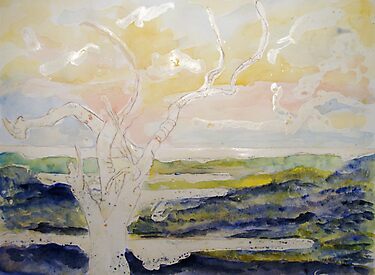 WIP#4 took of the masking fluid, added a watercolor wash to the water and started working on defining the tree.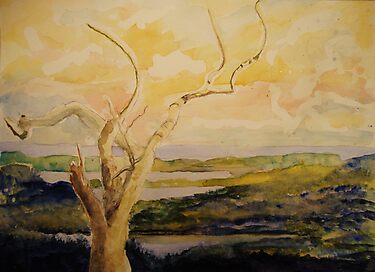 WIP#5 Worked on the fore landscaping adding darker hues and more detail.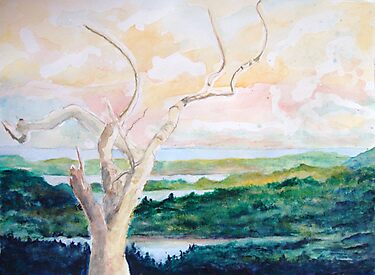 WIP#6 Worked on the background water and sky adding more color hue and dark tones

WIP#7 Added some darker tones to the tree which is the last work in progress. The next step I will add some highlights to the tree in acrylics. The entire piece was done in watercolor except some white acrylics on the tree. I wanted the tree to stand out so I thought it needed a bit more definition, so I added some white highlights to finish it off….