Neidpath Castle,Peebles.Scotland
Neidpath Castle lies about a mile west of Peebles in the Borders. It was built in the 14th century by Sir William de Haya, Sheriff of Peebles, replacing an earlier castle which belonged to the Fraser family.
The Hays owned the castle until 1686.
The Hays were royalists and Neidpath withstood Cromwell's forces longer than any other castle in the South of Scotland. However, Cromwell's cannons succeeded in the end and caused much damage to the castle, as they did to so many other historical properties. Although it was partially repaired, the Duke of Queensberry allowed the castle and its gardens to fall into ruin, and the upper part of the wing of the tower had collapsed by 1790. Today, only the main block and south range remain roofed. The castle has been a source of inspiration for the 19th century authors Sir Walter Scott and William Wordsworth, and some of the scenes in films The Bruce, Merlin and Joan of Arc were shot here.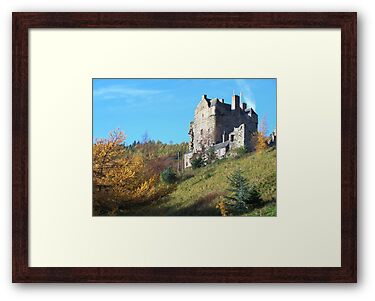 "Auld Neidpath, grim and grey wi' years, looks doon wi war-scarred face,
And sentinels our royal toun wi' majesty and grace,
Loyal sons of a fearless race, gather we here today,
And sing the auld-warld round-e-lay of 'Peblis to the Play',
Wave the Beltane banner high, Ring the anthem to the sky,
While our silver stream rolls by, The Tweeddale glen for aye."
2nd verse Peebles Beltane Song
http://www.peeblesbeltanefestival.co.uk/html/th...