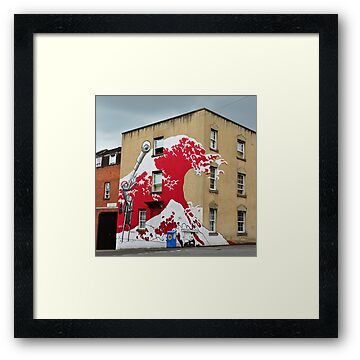 Stokes Croft, Bristol, UK.
Stokes Croft is the name of a road and an area in Bristol, England. The road forms part of the A38 that leads north from the city centre, before it takes the names Cheltenham Road and then Gloucester Road. It is within the districts of Kingsdown and St Paul's and comes under the BS1 postcode.
The name Stokes Croft has come to refer to an area around the road as an informal district encompassing Jamaica Street, the junction of Picton Street and Ashley Road, and the southern part of Cheltenham Road. The area is a centre of art, music and independent shops in Bristol, with clubs such as the Croft, Lakota and Blue Mountain; the nearby music college BIMM Bristol on King Square; and numerous pieces of graffiti art. The area's character has given rise to a group of activists and artists calling themselves The People's Republic of Stokes Croft (PRSC), who are seeking to revitalise the area through community action and public art.
http://en.wikipedia.org/wiki/Stokes_Croft
Photo taken on 13th July 2011 with a Nikon D700 and Nikkor 24-70mm f2.8 @f6.3