A sea mist swathes Godfreys beach and the Stanley Nut, while the sun tries to peek through….and i was up to my quivering hips in sea water, trying not to fall over, the incoming tide was pounding the rocks, the sand, me…
Was totally fun though, a real buzz…….Godfreys put on a show!!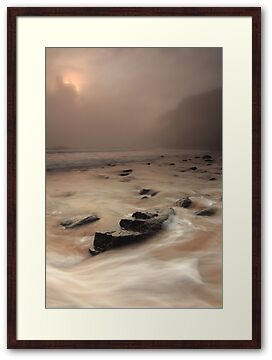 Canon 5D Mk II, 17 to 40mm lens, at 22mm,
ISO 50, 2/3rds over (thx Peter!), F22 at 0.6 secs, 3 ND grads, processed in cloudy, touch of saturation, and contrast……and a towel!!