Church Rock……Arthur River mouth, west coast Tasmania…..
This monolith is an absolute gem in amongst a smorgasboard of similar rugged and massive rocks …..
The walk from the Arthur River mouth takes about 25 minutes, and you will pass some of the wildest, woolliest, and ancient coastline I've ever seen…….virtually inaccessible, the best way is to walk in, which sounds easy enough, but the walk contains soft sand, semi-quicksand, loose scree, bog holes, dunes, and black Angus cows who resent your coming between their calves and themselves (but you have to be really unlucky if that happens)……….
But, all in all, I would thoroughly recommend that anyone who loves the wildest stuff that nature has in Tassy to go for the walk……….and be amazed!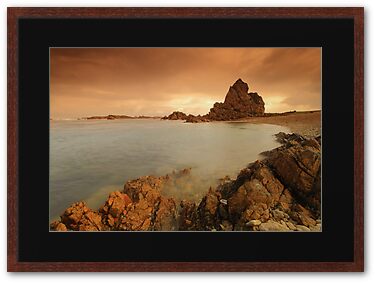 Canon 5D Mk II,
17 to 40mm lens, at 19mm, ISO 50,
F22 at 4 secs, ND8 and 2 graduated NDs, plus an amber filter, to add a bit of zip to a dull sky……
Thankx Garth, for the trip, the laughs, the non-sharing of chocolates, and for keeping me calm whilst Mr Leech chewed my ear!!