532 Views as of 9 December 2012 – Thank you!
Hunter S. Thompson – Journalistic Freedom
"There are a lot of ways to practice the art of journalism, and one of them is to use your art like a hammer to destroy the right people – who are almost always your enemies… " (Thompson, Better than sex , 16)
I came across the works of HST when I went to college. I am so happy that I did. I stuck with him through the end. And, I miss him. He was a great American.
Variant I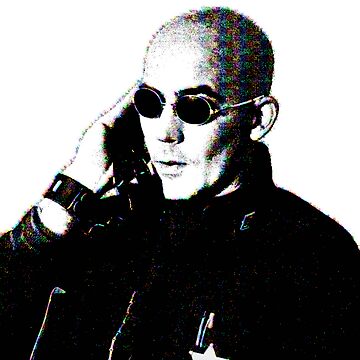 The original photograph is by David Hiser, taken in 1970 during Hunter's campaign for sheriff of Aspen, CO. it was the cover image of Hunter's 1994 book Better than sex: confessions of a political junkie.

This image has stuck with me for years. I feel that it shows the determination and attentive observation of Hunter. I wanted to bring out the aura and power that surrounds him and emphasize his sharp features by upping the contrast. After cropping and editing the image to eliminate the background, I divided the image into two: light and dark and manipulated them. This work was created with Gimp and ended up with 8 layers, numerous filters, and essentially a 6 layer stencil.